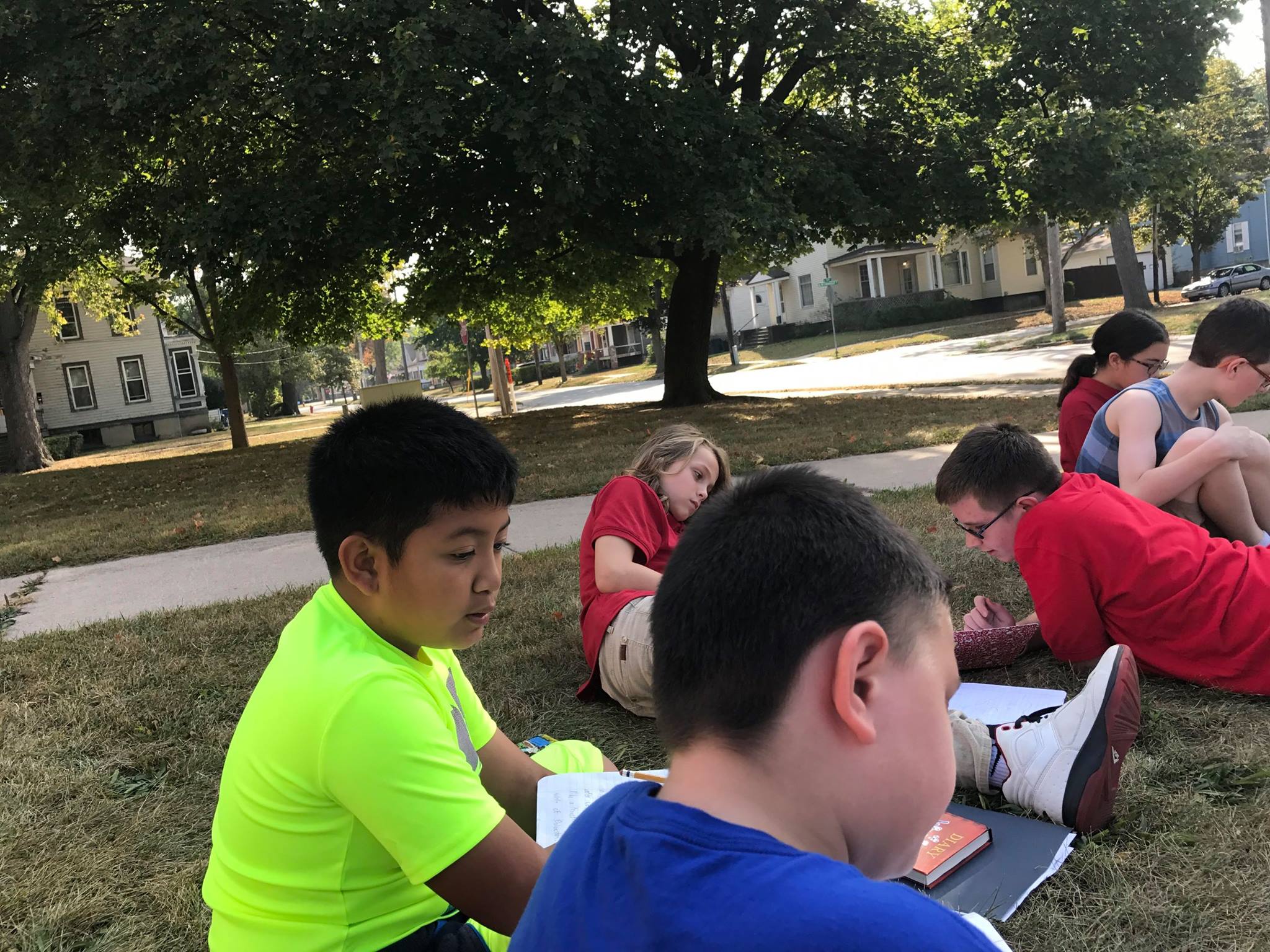 FAQs
Below are some Frequently Asked Questions about Bay City Academy. If you do not see your question answered here, please do not hesitate to contact us.
Is Bay City Academy a private school?
Bay City Academy is a public school academy, also called a charter school. There is no tuition, but parents do make an extra commitment when they choose to enroll their children here. They must commit to driving them to and from school each day, attending culminating events and meeting with their child's teacher(s) two or three times per year to discuss academic progress. Our operating funds come from the state of Michigan on a per-pupil basis. We receive the same amount per student as other local public schools.
What is a charter school?
A charter school is actually a public school district authorized through Michigan law and the Department of Education. Two of the major differences between a charter school and a traditional public school are that we have no geographic boundaries and we are a pure school of choice; our students attend Bay City Academy because their parents have chosen to send them here.
Who holds Bay City Academy accountable?
Like all public schools, we are accountable to the Michigan Department of Education and must abide by all laws, including participating in the state testing program. In addition, we are accountable to Lake Superior State University, which granted our charter. A representative of the university attends each of our school board meetings, reviews all of our documentation (including teacher certification) and makes unannounced visits to check on the quality of our program. Our highest level of accountability is to our customers: our students and their parents. If we do not satisfy our customers, they will not continue their relationship with Bay City Academy.
Do you offer programs for students with special needs?
Our program compliments gifted students as well as students with special education needs. Our multi-age model and visual teaching methods match those of gifted learners. Anytime our students score high on initial assessments, we watch carefully and plan accordingly. We find it very easy to accommodate our gifted learners mostly because our lessons are taught using brain-based, visual learning strategies that have been developed by watching how gifted students learn. Lower elementary students are provided accelerated instruction within their classroom, while upper elementary students receive instruction in self-contained classrooms where the BCA curriculum is both accelerated and enriched.
You have high academic expectations, but what about the arts and sports?
At Bay City Academy, we offer band, music, choir, art and physical education classes. Each class participates in fitness two to four times per week, which includes personal fitness goals and traditional sports and games played in the gymnasium.
What are the Bay City Academy hours?
Bay City Academy is in session 8:00 a.m.-3:15 p.m. Monday through Friday. Occasionally, students are released earlier on Friday, so that staff may attend professional development training.
What else makes Bay City Academy unique?
Bay City Academy is the sum of many great components:
Choice Theory - Internally Motivated Students through Great Expectations
Character Education - Taught, Modeled and Measured
Whole Child Approach - Meeting all the basic needs of our students
Focus on the Arts - Music and Art K-10
School Uniforms
Differentiated Instruction - Each student is placed where they need to be academically
Customer Service/Student Centered - Making decisions in the best interest of students first - positive contacts, carpool, culminating events, family meetings, family lunches
Extra Curricular Opportunities - Athletics, Dance, Lady Lumberjacks, Outdoor Adventure Club and Gardening Club
Small Class Sizes
Superior Staff
What is character education?
In addition to traditional academics, the character traits of optimism, getting along, work ethic, responsibility, respect and kindness are modeled, taught and graded at all levels on a regular basis at Bay City Academy. All students receive character education report cards periodically throughout the year.
What are the class businesses?
Students take part in operating a class business each year, learning responsibility, work ethic and principles of economics.
What is Choice Theory?
Dr. William Glasser's Choice Theory provides the basis for all we do at Bay City Academy. Choice Theory explains that almost all human behavior is chosen and that we are driven by our needs for survival, love and belonging, power, freedom and fun — the most important of which is love and belonging. Students learn the Seven Caring Habits of supporting, encouraging, listening, accepting, trusting, respecting and negotiating differences, as opposed to the Seven Deadly Habits of criticizing, blaming, complaining, nagging, threatening, punishing and bribing/rewarding to control.
What about school rules and discipline?
At Bay City Academy, we have one school rule for all students and adults: "Do the right thing because it's the right thing to do." We teach our students to do the right thing not because someone is going to reward us or we will not be punished, but simply because it's the right thing to do. Our primary goal is to prevent discipline problems by developing good relationships with our students and creating classrooms that are need-fulfilling for students. We teach students a process for talking through their problems that promotes self-evaluation for improved behavior. We also believe that no student has the right to disrupt the learning of others. Students who disrupt the classroom are removed from the classroom setting until they have developed a plan for improving their behavior.