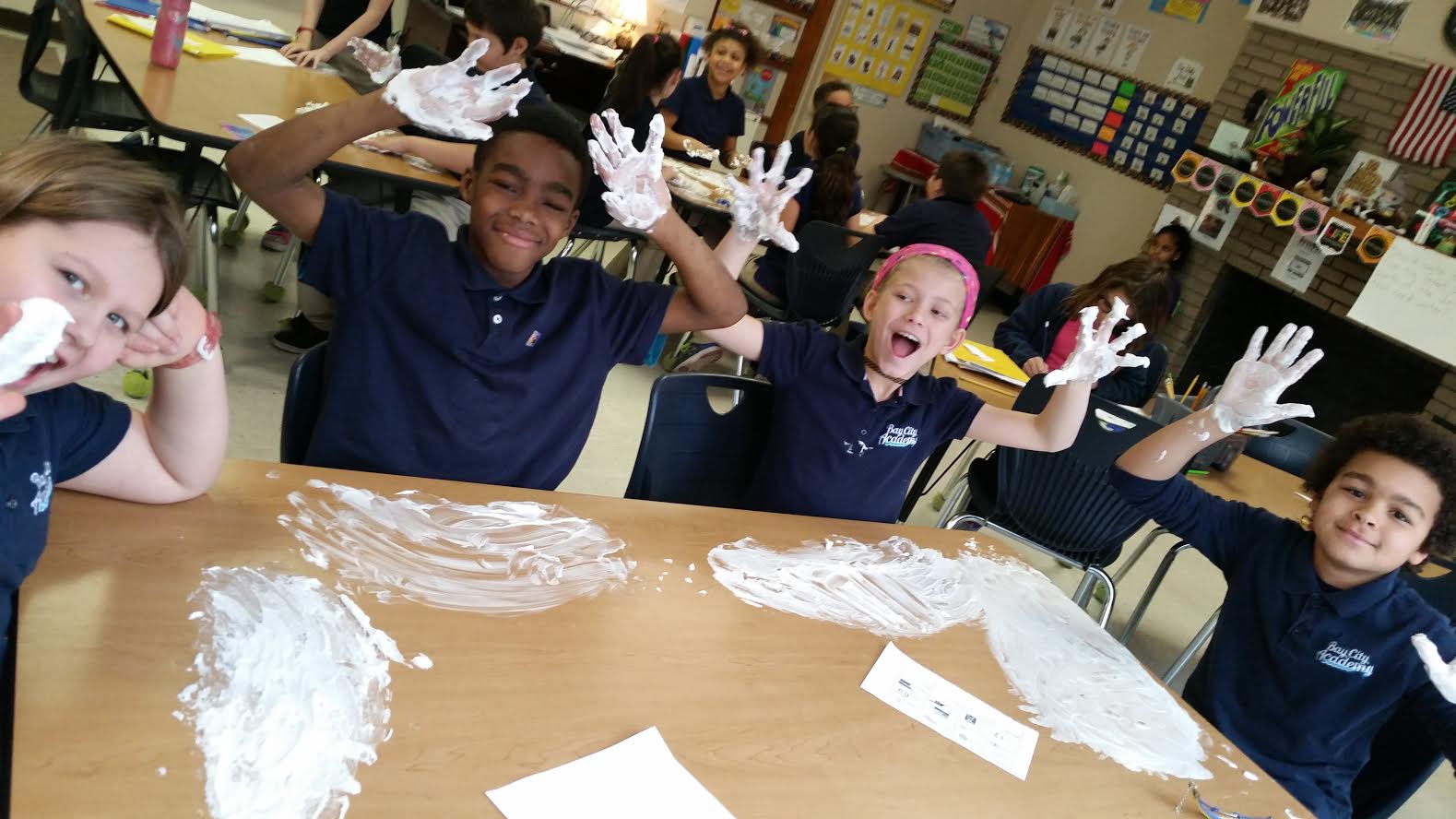 Our Curriculum
Curriculum Overview
Bay City Academy (the Academy) aligns its instruction with the Common Core State Standards ("CCSS"). As the updates for Science and Social Studies are completed and aligned with the Common Core Standards, the Academy will align its curriculum to support these changes. The Academy's curriculum and objectives are consistent with the goals of the contact and mission of the Academy. The Academy is able to fulfill its educational goals and mission by following the CCSS and using classroom, district and state data to drive instruction.
Bay City Academy Curriculum
Bay City Academy offers Differentiated Instruction to all students. A Balanced, Experiential and Relevant instructional program ensures that students develop not only a wide base of skill development, but also an appreciation for the learning of fine arts, language arts, science and mathematics. Teachers are trained on the essential components of the program and how to organize/structure their classrooms to be effective from the beginning.
We use an Inquiry-model of learning in social studies and science. This means children are asked to explore concepts, experiment with their knowledge and be creative in demonstrating their learning. Projects, research reports, dramatic presentations, speeches, experiments, service learning and more.
Visual Mapping
Visually mapping content is a way of organizing lesson content and delivery from traditional "part to whole" to "whole to part" methodology to better match human thinking. Lessons are organized in non-linear iconic arrays called image maps. Image maps represent whole units as visual mnemonic devices that provide an organizing framework into which lesson details are linked. Contrast the structure of the visual mapping methodology with traditional school instructional methods, which teach in text symbols, not images, part-to-whole, and in linear outlines. Our curriculum is consistent with, and based upon, the Grade Level Content Expectations (GLCES) recommended by the Michigan Department of Education and the national Common Core State Standards.
Curriculum
English Language Arts
Includes listening, speaking, reading and writing.
Aligned to the Common Core State Standards
Treasures, developed by McGraw-Hill, is a "research-based, comprehensive" basal reading program for students in grades K – 5 that combines "explicit instruction and ample practice [to] ensure students' growth in reading proficiency....Each week's lesson integrates grammar, writing, and spelling for a total language arts approach" (McGraw-Hill, 2009). The Treasures Reading Program materials consist of leveled readers as well as online workbooks and activities.
Multiple methods are used for teaching reading, including: phonics, sight words, whole language and speed reading, all emphasizing comprehension.
Students write compositions, reports, letters, editorials and essays. All students have frequent practice in public speaking and analytical listening. Computer-aided programs are used to supplement reading skills.
MAISA Writing Units:

builds the communication and foundational literacy skills (reading, writing, speaking, and listening) of all learners.
uses culturally relevant materials in instruction so readers see themselves in texts.
focuses on critical literacy so students, our future leaders, can identify and develop effective arguments, weigh evidence, determine bias, and understand different perspectives.
helps all students become proficient in the "new literacies": visual, informational, digital, media, technological, and cultural literacy.
helps students recognize the unique literacy demands of the different academic disciplines.
develops, at grade-appropriate levels, the corresponding literacy practices needed to participate in these academic domains
English Language Arts Support

Learning A to Z is a leading provider of digitally delivered teaching products that support instruction and student growth in reading, writing, and science.
Leveled books, worksheets, and interactive resources:
Enhance instruction
Support student achievement, ensuring the right resources for every PreK-6 classroom
Mathematics
Includes computation, number sense, problem solving, statistics, algebra, geometry and measurement.
Aligned to the Common Core State Standards
Eureka Math® curriculum
with problem solving as the center of math learning and concepts taught with a concrete–pictorial–abstract learning progression through real-world, hands-on experiences.

Supports the goals of the Common Core State Standards for Mathematics
Is research-based and focuses on classroom learning, discussion, and practice
Balances conceptual understanding, visual learning, and problem solving
Math Support

Khan Academy - Khan Academy offers practice exercises, instructional videos, and a personalized learning dashboard that empower learners to study at their own pace in and outside of the classroom. Students tackle math, science, computer programming, history, art history, economics, and more. Khan Academy guides learners from kindergarten to calculus using state-of-the-art, adaptive technology that identifies strengths and learning gaps. We've also partnered with institutions like NASA, The Museum of Modern Art, The California Academy of Sciences, and MIT to offer specialized content.
Moby Max - The idea behind Moby Max is to leverage scientific data to create an adaptive learning tool set that helps students and teachers identify missing skill sets and uses progress monitoring to automatically assign effective lessons. The completely integrated curriculum system provides real-time actionable data to educators. Most importantly, results clearly show that students are motivated, learning, and succeeding. One of the keys behind the Moby Max approach is a differentiated curriculum, with progress monitoring built in. "With the help of diagnostic placement tests, MobyMax is able to create a unique curriculum for each student. Moby targets areas where the student is struggling and doesn't waste time reteaching concepts that students have already mastered." Using their Find-Learn-Practice-Review Cycle and integrated motivators like Badges, Games, and Goals, MobyMax creates an efficient and effective process with which students learn up to 3 times faster than they do with traditional curricula.
The Focused Instructional Model (FIM) is a research-based instructional method developed by the Institute for Excellence in Education. FIM is transforming classroom instruction and driving increases in student achievement. This systematic process trains teachers to develop integrative lessons that naturally demonstrate real-world application. Teachers use the process to monitor their students' mastery of the content and provide interventions when appropriate. It is an integrative, holistic approach to teaching built upon instructional best-practices.
Science
Includes Earth/Space, Life, Physical, and Engineering, Technology, and Application of Science. Project-based learning is emphasized.
Next Generation Science Standards:Through a collaborative, state-led process managed by Achieve, new K–12 science standards have been developed that are rich in content and practice and arranged in a coherent manner across disciplines and grades to provide all students an internationally-benchmarked science education. The NGSS are based on the Framework for K–12 Science Education developed by the National Research Council. The Framework uses the term "practices," rather than "science processes" or "inquiry" skills for a specific reason:
We use the term "practices" instead of a term such as "skills" to emphasize that engaging in scientific investigation requires not only skill but also knowledge that is specific to each practice. (NRC Framework, 2012, p. 30)
The eight practices of science and engineering that the Framework identifies as essential for all students to learn:
Asking questions (for science) and defining problems (for engineering)
Developing and using models
Planning and carrying out investigations
Analyzing and interpreting data
Using mathematics and computational thinking
Constructing explanations (for science) and designing solutions (for engineering)
Engaging in argument from evidence
Obtaining, evaluating, and communicating information
Science Support

Mystery Science delivers engaging, differentiated resources that allow students to read, write, think about, and do science. Comprehensive units in Life, Earth, Physical, and Process Science includes numerous resources offered at three reading levels within each grade span: K-2, 3-4, and 5-6. Mystery Scient offers 3,500+ resources that provide a robust collection of informational texts. Through captivating science experiments and projects, students have the opportunity to think and act like scientists.
Social Studies
Includes Geography, History, Civics and Economics. Project-based learning is emphasized.
The Grade Level Content Expectations (GLCE) balance disciplinary content and processes and skills that contribute to responsible citizenship and form a foundation for high school social studies coursework. Effective social studies instruction and assessment incorporate methods of inquiry, involve public discourse and decision making, and provide opportunities for citizen involvement.
Character Education
Includes the skills necessary to be successful and happy, both on the job and in life. Students focus on Respect, Personal Responsibility, Kindness, Getting Along, Optimism, and Work Ethic.
Technology
Students learn word processing, database management, spreadsheet development and Internet use.